Prior Design Bentley GT/GTC Body Kit
04-25-2012, 05:49 PM
Prior Design Bentley GT/GTC Body Kit
---
Hello Everyone, we would like to Introduce to you the Bentley Continental GT/GTC Kit made by Prior Design.
Please contact us by Email or PM for Pricing and availability.
Thank you for your time.
Prior Design Bentley GT/GTC Body Kit:
Our products are made from quality Dura-Flex FRP (Fiber Reinforced Plastic). This material is characterized by an excellent surface finish that provides sufficient flexibility combined with high stability and allows for easy and inexpensive painting. Also, our parts are all made with excellent fitment with no modifications or alterations needed for the parts, which minimizes installation costs. Kit comes with:

Front bumper, Front lip, Mesh grills, Side skirts, Rear bumper and Rear diffuser.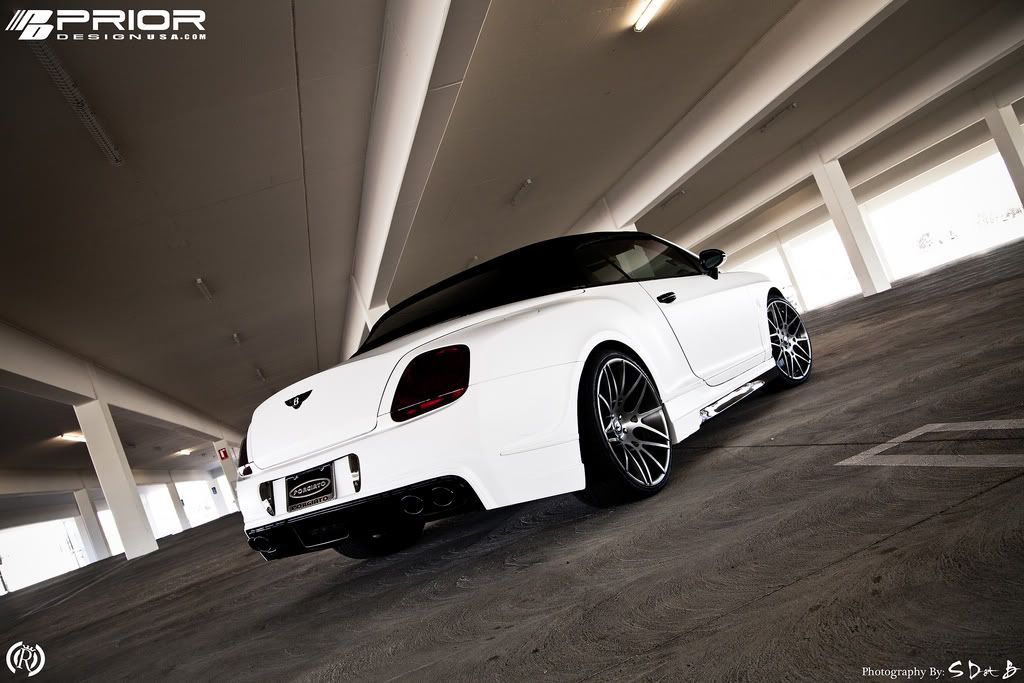 __________________
3W Distributing L.L.C.
3560 S. Polaris Ave #24
Las Vegas, NV 89103
702-430-6622
|
Email:

[email protected]
WWW.3WDistributing.com
|Facebook: 3W Distributing|Instagram: 3W Distributing
Distributors for: AC Schnitzer, Akrapovic, BBS, BRABUS, BREMBO, H&R, HRE, KW, Mansory, Meisterschaft, Modulare Forge, PUR Wheels, StarTech, TechArt, Vorsteiner, and MUCH MORE. #1 BRABUS Dealer in North America
---
Last edited by 3WDistributing; 04-27-2012 at

01:34 PM

. Reason: Work correction
04-27-2012, 01:31 PM
KIT WILL BE AVAILABLE TO SHIP IN 5-6 DAYS.....ACT FAST.......We're offering a special 6Speedonline Members deal.....Please contact us for details.....Thank you
__________________
3W Distributing L.L.C.
3560 S. Polaris Ave #24
Las Vegas, NV 89103
702-430-6622
|
Email:

[email protected]
WWW.3WDistributing.com
|Facebook: 3W Distributing|Instagram: 3W Distributing
Distributors for: AC Schnitzer, Akrapovic, BBS, BRABUS, BREMBO, H&R, HRE, KW, Mansory, Meisterschaft, Modulare Forge, PUR Wheels, StarTech, TechArt, Vorsteiner, and MUCH MORE. #1 BRABUS Dealer in North America
05-07-2012, 12:26 PM
Kit has ARRIVED....Please contact us for pricing.

Thank you
__________________
3W Distributing L.L.C.
3560 S. Polaris Ave #24
Las Vegas, NV 89103
702-430-6622
|
Email:

[email protected]
WWW.3WDistributing.com
|Facebook: 3W Distributing|Instagram: 3W Distributing
Distributors for: AC Schnitzer, Akrapovic, BBS, BRABUS, BREMBO, H&R, HRE, KW, Mansory, Meisterschaft, Modulare Forge, PUR Wheels, StarTech, TechArt, Vorsteiner, and MUCH MORE. #1 BRABUS Dealer in North America
05-24-2012, 12:14 PM
Hello,

We are offering a Memorial Day Sale. Additional 5% off and Free Shipping. Sale ends 5-25-12.

Thank You
__________________
3W Distributing L.L.C.
3560 S. Polaris Ave #24
Las Vegas, NV 89103
702-430-6622
|
Email:

[email protected]
WWW.3WDistributing.com
|Facebook: 3W Distributing|Instagram: 3W Distributing
Distributors for: AC Schnitzer, Akrapovic, BBS, BRABUS, BREMBO, H&R, HRE, KW, Mansory, Meisterschaft, Modulare Forge, PUR Wheels, StarTech, TechArt, Vorsteiner, and MUCH MORE. #1 BRABUS Dealer in North America
06-28-2012, 12:50 PM
Hello,

Please contact us if you need pricing.

Thank you
__________________
3W Distributing L.L.C.
3560 S. Polaris Ave #24
Las Vegas, NV 89103
702-430-6622
|
Email:

[email protected]
WWW.3WDistributing.com
|Facebook: 3W Distributing|Instagram: 3W Distributing
Distributors for: AC Schnitzer, Akrapovic, BBS, BRABUS, BREMBO, H&R, HRE, KW, Mansory, Meisterschaft, Modulare Forge, PUR Wheels, StarTech, TechArt, Vorsteiner, and MUCH MORE. #1 BRABUS Dealer in North America
09-13-2014, 11:48 AM
__________________
3W Distributing L.L.C.
3560 S. Polaris Ave #24
Las Vegas, NV 89103
702-430-6622
|
Email:

[email protected]
WWW.3WDistributing.com
|Facebook: 3W Distributing|Instagram: 3W Distributing
Distributors for: AC Schnitzer, Akrapovic, BBS, BRABUS, BREMBO, H&R, HRE, KW, Mansory, Meisterschaft, Modulare Forge, PUR Wheels, StarTech, TechArt, Vorsteiner, and MUCH MORE. #1 BRABUS Dealer in North America
Thread
Thread Starter
Forum
Replies
Last Post
American Muscle Vendor Classifieds