B&M Short Shift Kit Closeout $75.00+S&H
09-24-2008, 11:34 AM
B&M Short Shift Kit Closeout $75.00+S&H
---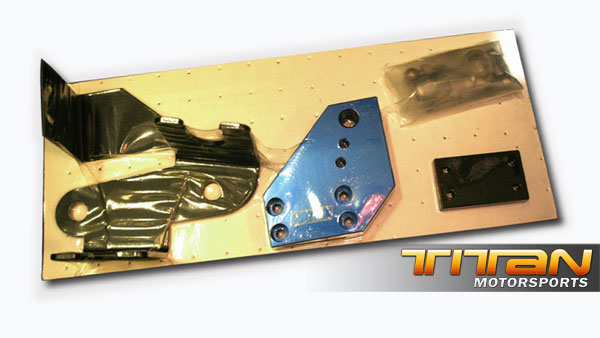 B&M Recently discontinued their line of Porsche Short Shift Kits (although they still offer the Shifter version). As a result where where able to purchase their remaining inventory and offer these at a large savings over the previous cost. These shifters reduce shift travel by up to 30%! If you like your factory shifter here is an alternative to replacing it. Easy to install on the transmission lever, these machined billet aluminum components and unique brackets are anodized for corrosion protection.
Enhances the factory shifter Adjustable shift throw reduction Machined billet aluminum components Anodized for corrosion protection
Ideal for Porsche cup car racing Fits into factory cradle with no modifications 10-30% shift throw reduction for more precise shifts
Click on the links below to order online through
http://www.titanmotorsports.com
using the links below.
45180
B&M Porsche 911 996 GT3 Short Shift System
45181
B&M Porsche 911 996 GT2 Short Shifter System
45183
B&M 2002-2004 Porsche 911 Carrera Short Shifter System
09-24-2008, 12:03 PM
Join Date: Jul 2008
Location: Vancouver
Posts: 24
Rep Power:
0
Is this difficult to install on a 996 GT3? Do you have installation instructions?
11-05-2008, 09:05 PM
997?
---
any kits for a 997 GT3 RS?
Thread
Thread Starter
Forum
Replies
Last Post
Mini Cooper Vendor Classifieds