Alfa 4C
10-22-2015, 08:24 AM
Alfa 4C
---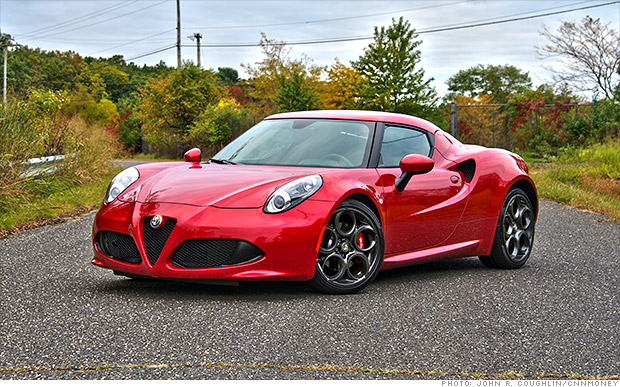 I know this forum reads - "Other Italian Supercars", and this is no supercar (in my opinion), but there is no equivalent in the UK sub-forum (Other British cars), so I'm not sure where this car fits.
The wife is set on picking one up in a few months (just discussed specs with dealer), waiting on confirmation of inbound car (wife was pretty specific on the configuration of the car).
I'm just wondering what thoughts anyone may have about this car.
01-07-2016, 09:48 PM
Join Date: Nov 2008
Location: Ohio
Posts: 369
Rep Power:
28
I have one too. Pm me if you have any questions about it.
01-14-2016, 09:07 PM
03-20-2016, 10:40 PM
Join Date: Feb 2007
Location: LV
Posts: 225
Rep Power:
28

My 2006 C4 is my daily, and I bought a 4C last year.

Both cars are very different, each awesome in their own way.

The 4C is made of modern materials, but has a complete throwback feel. That's what I was after...

Most new sports cars claim 'ultimate connection between driver and road'. When you drive a 4C, you realize what a bunch of BS all of those statements are...

Most modern sports cars are GT's these days. Which is FINE, and I absolutely love astons, porsche's, etc., but cars like the 4C give you a more direct connection as they are light, have no power steering, and are small by today's standards, but 'the right size' by the standards of yester year.

Anyone that has an opportunity to drive a 4C should. They are fantastic and very different than anything else on the road IMO.
04-23-2017, 05:08 PM
I'm curious what kind of deals people are getting on 4c's. Any notable discounts from dealer asking price/msrp?
04-25-2018, 02:52 PM
Wife went a COMPLETELY different direction, but when we were shopping for another one last year, we were offered MSRP - no more, no less.
Not a bad deal for the amount of car - it was an absolute blast to drive. Not an everyday car (for me), but incredible every time I got in it.
09-02-2018, 09:42 PM
My next car is going to be either another 911 (manual, 997.2 this time), a V8 Vantage 4.7 Sports Pack (manual), or a 4C Launch Edition. I've driven the Vantage and the 4C (both coupe and Spider, one year apart) and I can't really decide which one makes the most sense. Actually, 911 makes the most sense, but my flashy side wants something rarer and more exciting, hence the Aston or the Alfa. I think the 4C would be most economical to run at the track, which has great appeal. The Vantage would be more satisfying on the road, however. The 911 is the best all-arounder, and I could even use it as my daily driver. Decisions, decisions...
---
Last edited by CoreyC2S; 11-18-2018 at

06:27 PM

.
11-03-2018, 11:58 PM
Join Date: Jun 2009
Location: Sacramento, CA
Posts: 20
Rep Power:
0
I bought my 4C Spider new in September and I got it for $10k under MSRP. In general the dealers in the upper Midwest and Northeast are far more likely to bargain. Cali is quite the opposite. I used Intercity Lines (a 6 Speed firum sponsor) to ship the car out west and it worked out well 😁!