Cracked HRE wheel
05-31-2009, 08:39 AM
Cracked HRE wheel
---
This could have been ugly. My mechanic found these two cracks on one of my rear wheels. HRE claims that they were powder coated by a third party and that it was done incorrectly (too much paint = too much heat) which caused the wheels to weaken. They want me to send them the other 3 wheels for inspection and most likely will tell me to replace them. They won't warranty the wheels because of the powder coating plus the wheels are over 5 years old. I could buy a nice 944 race car for what they want for four new wheels. DAMN. Any suggestions where I can get some quality wheels without breaking the bank?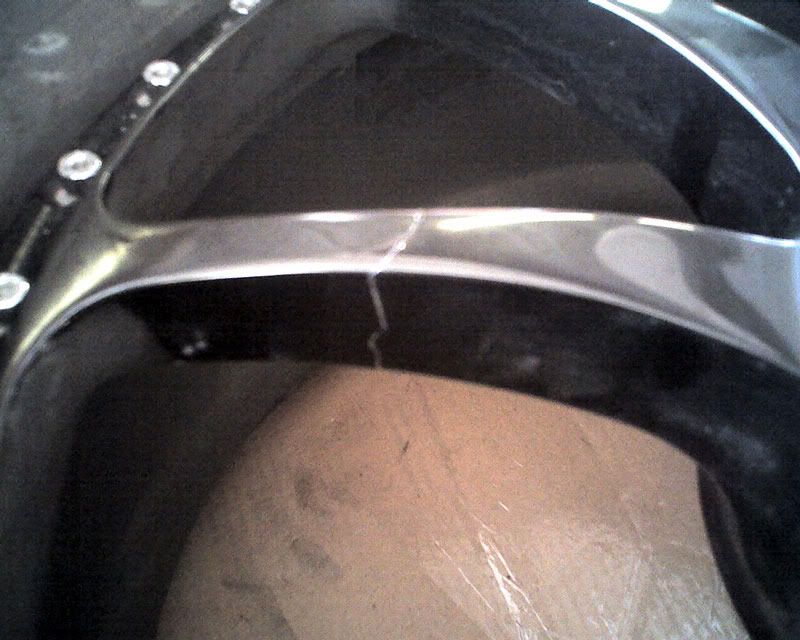 05-31-2009, 11:29 AM
I have read a post from HRE stating that temperature is extremely important when powder coating. I don't blame them for taking this approach. Just like if you mod your pcar, your warranty probably is voided.

Maybe the OP can put the stock wheels back on (for safety reason) and look for a good deal for a set of used wheels.
05-31-2009, 11:35 AM
Join Date: Jan 2006
Location: Bay Area, CA
Posts: 1,362
Rep Power:
73

05-31-2009, 01:28 PM
Join Date: Jan 2007
Location: N. California
Posts: 2,981
Rep Power:
291






Kinda like a dealer when they see a mod, it MUST be the mod that caused the failure....

If you DID have the centers powder coated, you should quiz whomever did it on their process- max temp, temp ramp, dwell time, etc. If they screwed it up, they might be responsible...

Then ask HRE what the 'specs' are for safely powder coating. (Fat chance on that!)

A thick coat does not automatically mean they were hotter, AFAIK. Could be two coats, could be a longer soak at temp to get the powder to fuse.

GL

A

PS I would not let them have the other three- I'd wonder if they'd send them back!
05-31-2009, 02:07 PM
I couldn't agree more.
I already did that.
Originally Posted by ard
If you DID have the centers powder coated, you should quiz whomever did it on their process.

A thick coat does not automatically mean they were hotter, AFAIK. Could be two coats, could be a longer soak at temp to get the powder to fuse.

I would not let them have the other three- I'd wonder if they'd send them back!
This car was impeccably modified when I bought it. Everything was done top notch. I am sure that the original owner brought it to a reputable company to have the wheels powder coated. Either way, I am sure the original powder coater won't admit error and neither will HRE.
The HRE rep was also claiming that the wheels are older than the warranty and he claims that the warranty is further voided because the wheels were not reassembled by HRE.
And I agree about sending him the other three wheels. I asked him to quote me on four new wheels. He tried to convince me that he could only quote me if he has the wheels there. Obvious BS since he's going to make the same claim about the other three wheels. He finally agreed that he will get me a quote without receiving the wheels. Definitely seems like slimey tactics.
What makes this whole issue suck even more is that I only have about 20K miles on those wheels.
05-31-2009, 02:15 PM
it is common knowledge that improper temperature during powder coating can weaken the best of high quality wheels...I don't see how any of you can expect HRE to be responsible for someone else's work just because their wheels are expensive...if they had done the powder coating they would stand behind it...Alan, do you care to chime in here?
05-31-2009, 04:31 PM
This is why we are trying to tell everyone NOT to modify our wheels!
---
Dirty Mac,

First, I cannot understate how sorry I am to see you are having a problem with your HRE wheels. While I should probably wait to get the whole story again on Monday morning, I know a little background and I know how HRE would and should be approaching this. Let me clarify our intention so you don't misunderstand what we're trying to do.

1. Our warranty when these wheels were sold was indeed 5 years, but at the end of the day, if this were due to HRE we would stand behind them 100% no matter how long it was and our wheels sold today today carry a lifetime structural warranty because we realized that is what we were doing anyway so we might as well make it official.
2. We do not guarantee any warranty without first inspecting the wheels. Upon inspection it was clear these wheels were taken apart and powdercoated by a 3rd party as they did not leave the HRE factory that color. We track all of our wheels using serial numbers so we know the original order and any modification by a 3rd party voids the warranty because we cannot control their process.
3. Repainting seems innocent enough but it doesn't take much to overheat and damage a forged center. We see people claiming they do it all the time without issues but I can assure you that it is only a matter of time and miles before the centers start to crack once they've been overheated. A difference of 50 degrees F is the difference between safely powdercoating and severe degradation of the parts. The vendor doesn't know because fatigue failures take time. Once it finally cracks, the customer is LONG gone (in this case the car was already sold). And you are correct, the thickness has nothing to do with the degradation. It just stood out to us as different than HRE's quality and why we checked to see if we did the finish.
4. We asked for your other 3 wheels so we could see if we could replace just the centers and determine the full price of the quote as rims may or may not need to be replaced (bent or other reasons). This is not BS and was intended to get you down the road as inexpensively as possible. We were never intending to sell you 4 new wheels and I had authorized a significant discount on the entire order understanding you basically bought someone else's ruined wheels which are now junk. All of this is tentative on sending the wheels to HRE which I'm sure you understand is not unreasonable as we're trying to actually save you money.
5. I also ask that you try to understand our position as this is something I have personally been warning people about on 6Speed and elsewhere time and time again. You should NEVER modify an HRE wheel. Send it to us. You will be taken care of properly and safely. I know you bought these used and didn't do the mods, but you are basically stuck with the aftermath. Unfortunately, this is not the first time we've seen this and we've recently had another incident where an authorized dealer did unauthorized painting after it left our factory with the same end result. We cannot restate enough how important this is but unfortunately even some of our partners don't listen and we have cut off one dealer just for this reason.
6. At the end of the day, HRE's name is on those wheels and you're unhappy. Our intention is and will always be to take care of you as best possible even though the warranty was voided due to damage by a 3rd party. I hope you realize that this level of service is not common in this industry or any industry for that matter. You have HREs and that means there is a promise that goes along with that and I hope you can see we're trying to always uphold that promise. I hope and assume we will work this out to your satisfaction and I hope I have clarified our intentions regarding this issue.

Please be careful out there.
---
Last edited by HRE_Alan; 05-31-2009 at

04:44 PM

.
05-31-2009, 05:10 PM
This is what makes HRE so unique. As usual you guys go above and beyond. Trying to fix this unfortunate situation speaks volumes even though these are used and have been ruined with improper powder coating.
__________________
SharkWerks.com
: Performance Center for EVOMSit, TechArt, HRE, Tubi, Champion, RSS, Brembo
See our
Press Coverage
&
Example Cars
Phone: 510-651-0300
Email
:
[email protected]
*World-wide Shipping Available*
SharkWerks Porsches:
2011 Shark 4.1 GT3RS
2009 997S ZTADPOL
2007 997GT3 RS 3.9L ZKERMIT
2006 Cayman S RS350
05-31-2009, 05:24 PM
I feel for you. I almost had the same issue. I'm glad I posted here to ask. I bought some used wheels with the intention of powder coating the centers black and leaving the lip polished. I posted here:
https://www.6speedonline.com/forums/...-question.html
and was told the same thing as you and everyone else is being told. I did not powder coat them as HRE wanted almost $1500 to do it. I realize what HRE is going to do with the wheels and I'm sure if I DID have them do it, they would guarantee it, just too much $$$ right now.
I did not know this at the time, but knowing this NOW, my advice to someone buying used wheels that are painted/powdercoated, find out who painted/powdercoated them. If it wasn't the original manufacturer, HRE or otherwise...pass on them, good price or not. I would like to say you're right to demand HRE step up, but technically, it's not their problem, but they ARE willing to help you though, which is cool. Good Luck with whatever you decide.
05-31-2009, 05:26 PM
Very interesting. Powder coating is quite common and the temps used to do so are usually below the temp needed to affect most metals. I find it hard to believe that the powder coating had such an effect. In fact heating of the metal usually softens it and those cracks look propagated through a brittle structure. In fact if the wheel had been thermally cycled by the backing process there should be some set or elongation before fracture. I see none. I suspect that these are Cast aluminum and aging is the culprit. Aging hardens aluminum. could also be that taking apart the wheels could have put some stress if they pried or hammered.

sorry to hear.