Garage Project is Starting!!
06-07-2008, 05:01 PM
Join Date: Mar 2008
Location: Greenwich, CT
Posts: 167
Rep Power:
17
Garage Project is Starting!! (Pics added 6-11)
---
UPDATE 12/7 PICTURES ADDED ON PAGE 2

So when I got back from school I started hanging out in my garage detailing cars, etc. My house is currently being renovated heavily, nothing untouched, and as of now there are two 2 car garages separated by a breezeway connector, so I told my dad we should do the garages, he simply responded "I don't have the time, it's your project, get it done" so I researched for over a week, read every single thread in this garage forum, looked at all pictures multiple times and read all your reviews.
So first off I would like to thank everyone who has posted their ideas, photos, and reviews. Because they helped me make educated decisions. So now it has finally come time for action!
I just placed my first order for my cabinets. Starting with my far garage, because it is deeper and wider, where i detail cars, and have my random garage stuff.
So for the order..... after reading the forum as well as GarageJournal.com I chose Gladiator cabinets.
I ordered (5) 30" Wall GearBoxes
(2) Jumbo GearBoxes
(1) 8 Ft Workbench

I may order more for the other garage, but this is only the start,
I am going to get exact measurements for my garages as well as a design together to order RaceDeck next week hopefully. So far my best price is $2.99 plus shipping (ordering about 1000 sq ft). I know there are club discounts and whatnot out there, so if anybody could help me get a lower price I would greatly appreciate that.

Prior to mounting the cabinets I think I am going to paint the lower part of the walls (around 4') a solid darker color (gray or something) then maybe a red stripe above and the top of it white.

I know I dont have any pictures, but I will get some soon and continue to update this with progress.

Any and all help/ comments are encouraged and appreciated.

(sorry for what may seem like a silly post, I was just excited and figured this would help, haha)
---
Last edited by CarChrisM5; 12-07-2008 at

11:17 AM

.
06-11-2008, 10:47 PM
Join Date: Mar 2008
Location: Greenwich, CT
Posts: 167
Rep Power:
17
Phase 1 is in action!!
So i got home today from work and to my surprise my dad had not only gotten all the cabinets picked up, but he had the contractors start putting them up, here is the day 1 progress as well as the required overall pictures and before pictures,
I'm doing garage #1 now, so garage #2 updates are to come
More work should be done by tomorrow so look forward to updates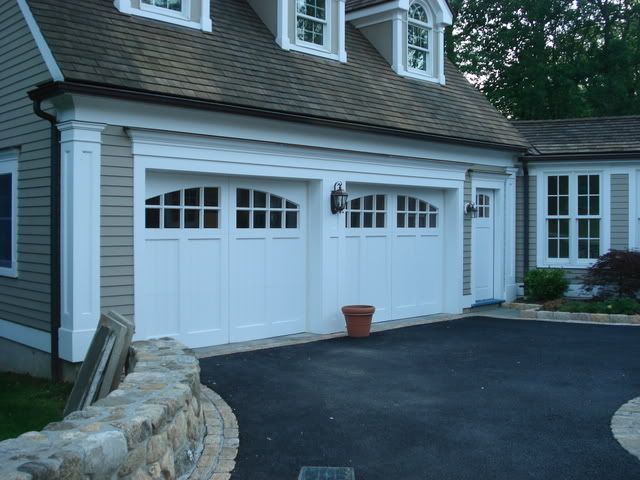 Thats the one getting worked on now
Some terrible before pics: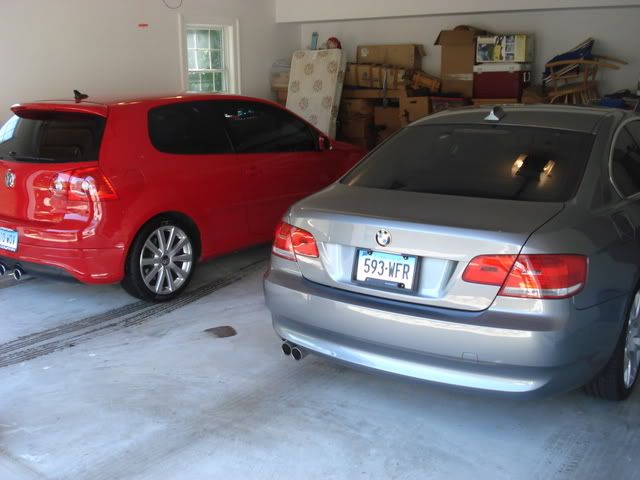 And now for the actual work
Random accessories my dad bought
and that is they kind of mess i am trying to get rid of and put in cabinets so everything looks nice, clean and organized
Still have to measure exactly and order tiles by this weekend.
Comments (+ and -) are appreciated
06-11-2008, 11:36 PM
My dad pretty much told me the same thing except i'm ordering 2 lifts. I read GarageJournal daily and get a lot of ideas there. I'm also doing racedeck and the same wall color as you. Good luck, looking forward to seeing what you get done.
06-12-2008, 06:34 AM
Join Date: Mar 2008
Location: Greenwich, CT
Posts: 167
Rep Power:
17
very nice, i showed my dad the lifts, i work at a custom shop and we have them there to store cars, and he thought they were really cool and wants them, but he measured and saw we didnt have the clearance to do it
make sure to post pictures when you start yours
and where in CT are you?
06-12-2008, 11:13 AM
I'm in Waterford-other end of the shoreline. Don't know how soon I'm starting but will definitely post pics when I do.
06-14-2008, 07:57 PM
Join Date: Mar 2008
Location: Greenwich, CT
Posts: 167
Rep Power:
17
So i spent the better part of the day with my dad cleaning and organizing, what do you guys think, I also need advice on what to put on the bare walls. I have my flooring picked, just awaiting the racedeck color samples so i can decide if i'm going to do Black and Graphite or Black and Alloy, then flooring will be ordered this week.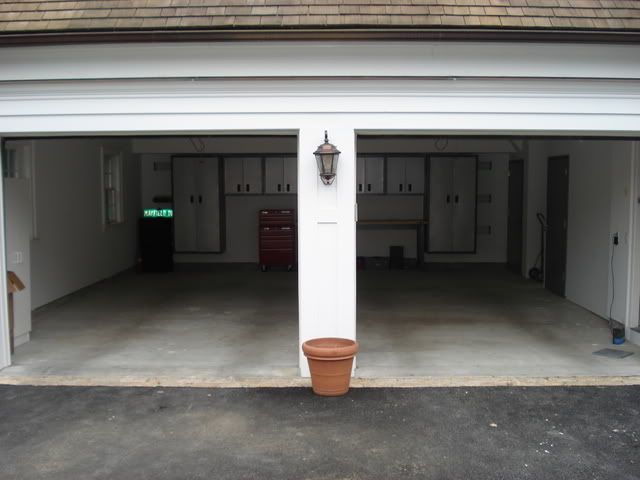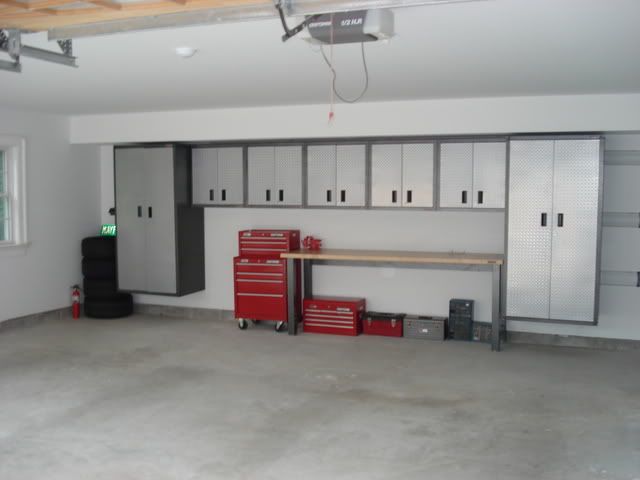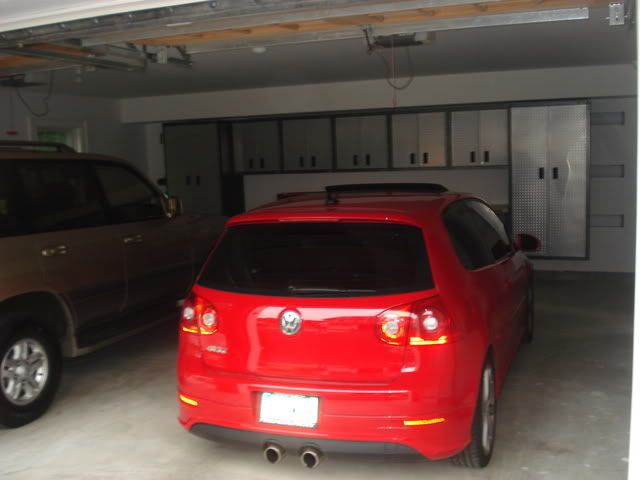 06-18-2008, 03:13 PM
Join Date: Mar 2008
Location: Greenwich, CT
Posts: 167
Rep Power:
17
07-14-2008, 08:44 PM
Join Date: Mar 2008
Location: Greenwich, CT
Posts: 167
Rep Power:
17
Racedeck tiles have arrived, did one of the garages and added a few posters, much more to come.