2003 Nissan 350Z Supercharged
10-03-2011, 05:50 PM
2003 Nissan 350Z Supercharged
---
Year: 2003
Make: Nissan
Model: 350Z
Price: $19000
Mileage: 125000
Color: Pikes Peak White
Private or Dealer Listing: Private Listing
Location (State): NY
Transmission: Manual
Drivetrain: Rear Wheel Drive

$22,000



Price drop- $20,000 (10/5/11)

Price drop- $19,000 (10/10/11)

For sale is my 2003 Nissan 350Z with Enthusiast package (side airbags, limited slip differential, traction control, cruise control, aluminum pedals). The car is Pikes Peak White with a Carbon Black interior. I recently moved to New York a couple weeks ago, and am not getting any use out of the car with my new hectic schedule. It has over $30,000 in aftermarket items alone! It has nothing but the highest quality parts installed by professionals. The odometer shows about 125k, but just about every single wear item has been upgraded or replaced within the past year, making the car drive and feel brand new. It was built to last with no breakdowns, and can be used as a daily driver, weekender, whatever you want. It was a weekend car for me, but is reliable enough to depend on everyday.
It has never been driven in winter or in the rain. It has never been in any accidents either, and has a clean and clear title (in hand) and Carfax report. There are absolutely zero mechanical issues with the car. The only imperfections are some normal scratches, scrapes, etc.
The car makes a reliable 400whp as it sits. Changing the supercharger pulley to the next size down will add another 40-50hp, but it was built to last without the fear of ever having a breakdown. Everything was addressed to make sure you are never stuck having to call a tow truck. I had cars like that in the past and its a nightmare. I do not and have not ever done any racing with it. The car was built to be fun and reliable while only needing regular scheduled maintenance to run 100% every day. It will pass emissions/inspection legally in all 50 states. I welcome any experienced mechanics to give the car a thorough run-down to show that there are no hidden problems, and that the car is not being sold for any dishonest reasons.
It is hard to determine the price of a car with this much invested, but I'm starting this at $22,000 figuring it is a fair deal for a buyer. I will entertain reasonable offers, but all is ask for no stupid ones. The wheels and brakes alone are $6k, so be easy!
Here's the list of most of what it has. I understand that many people on here won't know what everything is, but feel free to ask if you have any questions and I will let you know what it is, what it does, where I got it, etc. I am located in Huntington Village, NY on Long Island.
Every single aftermarket item has less than 2k miles since install, and some with less than 500 miles. Everything is pretty much brand new still.
Engine/Drivetrain Modifications:
Replacement factory engine from Nissan (55,000 miles) - Replaced under warranty, started burning oil which was very common for the early ones.
Crower Stage 2 cams
Vortech V2 Supercharger
Deatschwerks 600cc injectors
Walbro 255 fuel pump
HPX PMAS MAF
Uprev Osiris software by R/T Tuning
3.5" K&N Cold Air Intake
AAM Competition Plenum spacer
AAM Competition Oil pan spacer
GTM Oil Cooler kit with stainless steel braided lines
CD009 transmission from Nissan (20,000 miles) - Replaced under warranty, had a 5th gear grind which happened to almost every 03-05 car.
Nismo R-Tune Clutch
Nismo R-Tune Flywheel
Rouge Engineering Short Shifter
Redline transmission and differential fluids
MR Stainless Steel Tubular headers
Kinetix High-Flow cats
HKS Hi-Power true dual catback
Mishimoto Silicone Radiator Hoses
Mishimoto Air Diversion Plate
Nismo Oil cap
Nismo Radiator cap
DEFI Boost gauge
AEM UEGO Wideband gauge
Suspension Modifications:
Nismo S-Tune Coilover Suspension
Hotchkis Adjustable Swaybars
SPL Solid Aluminum differential bushings
Wheels/Tires/Brakes Modifications:
Brembo GT Monoblock Big-Brake-Kit
Stainless Steel Braided brake lines & Motul RBF600 fluid
18" Nismo LMGT4 wheels
Bridgestone Potenza RE-11 tires
Rays Duralumin Extended Locking lug nuts
Interior/Exterior Modifications:
Nismo V2 front bumper
Evo-R Dual Stage Hood Dampers
OEM 2006+ Bi-Xenon Headlights (Black housings w/ R8 LEDs & Demon eyes)
OEM 2006+ LED taillights
Pioneer AVIC-D3- Navigation, DVD, iPod control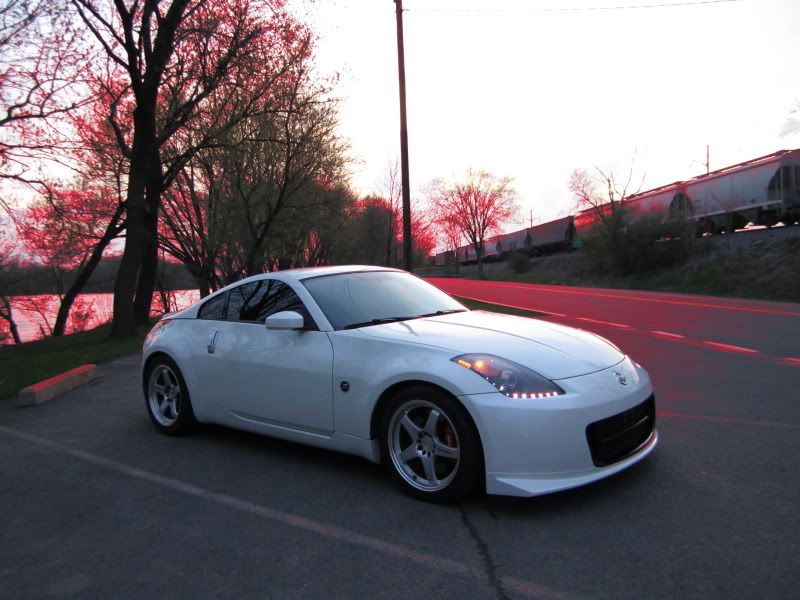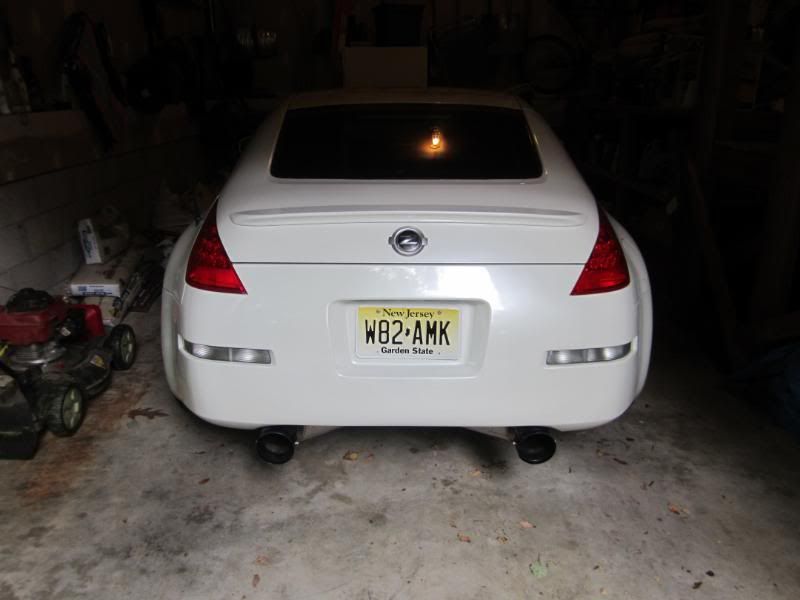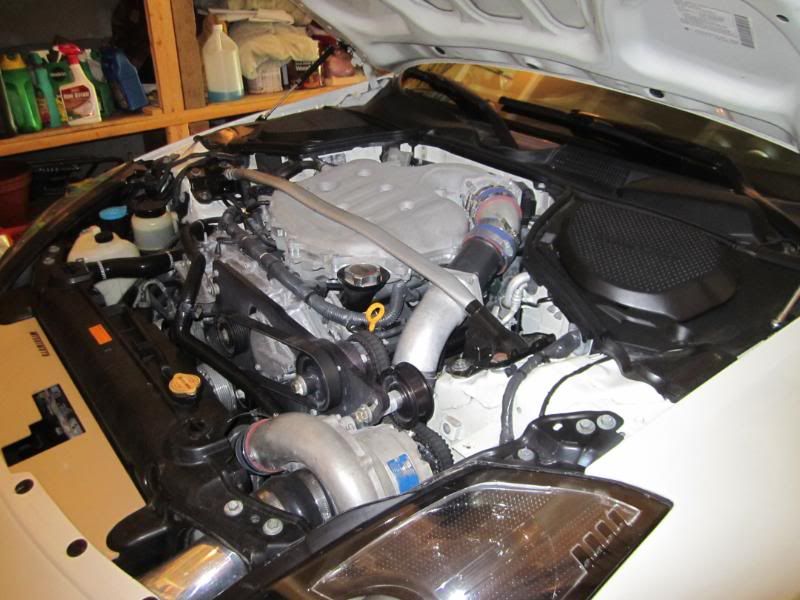 ---
Last edited by Cscat; 10-19-2011 at

09:11 PM

.
10-05-2011, 08:41 PM
$20,000? Trying to see what a great deal would be for somebody. Hard to put a price on something like this. From what I'm seeing though, there are no better deals out there. You definitely won't find a more complete 350Z anywhere. Feel free to post or message me any questions you might have.
10-07-2011, 01:09 PM
10-10-2011, 11:42 AM
$19,000. Trying to get some more interest going. You'll never find a deal like this anywhere. I'm being forced to let it go for less because of the season. This car was built right! All bushings/fluids/wear items recently replaced, it drives like brand new. Needs absolutely nothing!
---
Last edited by Cscat; 10-11-2011 at

11:34 AM

.
10-11-2011, 11:34 AM
10-11-2011, 02:32 PM
Join Date: Nov 2008
Location: Tx
Posts: 16
Rep Power:
0
10-13-2011, 01:04 PM
10-14-2011, 08:37 AM
Thanks. This is one of, if not, the most well-built Z on the market. I've gotten trade offers for cars worth a lot more than this, but just want someone to make a cash offer!
10-17-2011, 08:20 PM
Join Date: Apr 2009
Location: East Coast
Posts: 150
Rep Power:
17
I have a few questions to ask you so here is goes.
what boost level is the kit running?
Will this car pass MA state inspection? I know what you stated in your OP. Are the HFC 200 cell or 400cell?
so all the mods on the mod list have less than 2000 miles?
thanks
you can contact me at
[email protected]