New Ferrari F12 Berlinetta
02-29-2012, 05:41 AM
Join Date: May 2008
Location: PA
Posts: 301
Rep Power:
46






New Ferrari F12 Berlinetta
---
02-29-2012, 07:24 AM
Yes it is very nice. Much better now that we can see it through different angles. It is well proportioned and I like the long front end. It's a very classy car and is a good alternative to the more agressive aventador. Probably directed to an older clientele. Thx for posting :-)
---
Last edited by Norman75; 02-29-2012 at

07:27 AM

.
02-29-2012, 07:56 AM
Join Date: Jun 2008
Location: Germany
Posts: 3,088
Rep Power:
221






here some bigger ones.
the rear looks strange, the front too much like the FF, the side profile and old school wheels are very nice tho.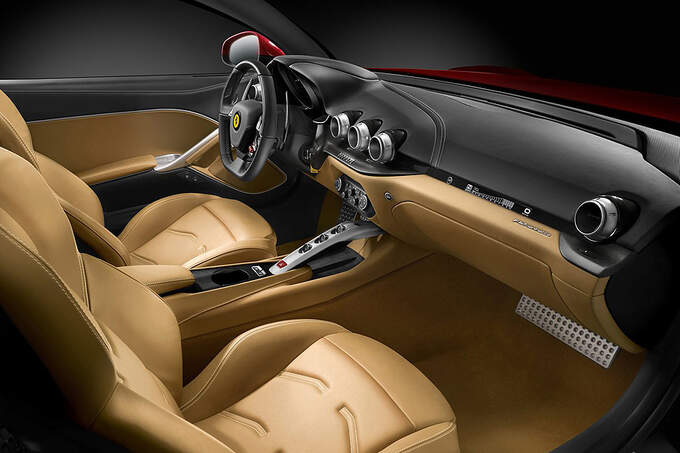 ---
Last edited by catchmyshadow; 02-29-2012 at

08:02 AM

.
02-29-2012, 08:07 AM
Join Date: Apr 2009
Location: NoVa
Posts: 4,386
Rep Power:
289






very good looking car, love the style, nice and clean but still aggressive enough... but not the integration (or lack thereof) of the F1-style center light on the back. it looks like someone just slapped a keypad on the back of the car.
02-29-2012, 11:27 AM
Looks like it was designed in the wind tunnel. That rear end is a bit strange. Is that the third brake light in the middle there? It looks like the ones they use in Formula 1. That may be going a bit far in the styling department.
03-01-2012, 08:56 AM
its very nice but i question why someone buys it given current ferrari line up.

todays ferrari is all about exotic and that means should have mid engine. (this is despite long history of front engine cars like 250 gto, swb, etc.) i understand if a big guy doesnt fit 458 so they need front engine packaging. but if thats the case, isnt the ff a better choice? has same fantastic v12 but truly practical with awd, rear seats, etc. the f12 is too big and heavy to be a pure sports car like 458 so might as well go for practicality of ff even though its little bigger and heavier still

other issue is price. i bet f12 will go for close to $500k and have heavy depreciation like all the front engine modern ferraris. aston martin dbs starting to look good at almost 1/2 $
03-01-2012, 09:51 AM
Configurator ...
http://www.worldcarfans.com/11202294...s/lowphotos#62
My thoughts:
- Same wheelbase as the 599, which wasn't that bad to begin with - but the shortened body, losing length from the rear combined with its longer that the 599s front end gives it a bit of an unbalanced oblong profile.
- Deep dramatic door scalloping was not needed. It's gimmicky. I see the new Hyundais doing this on all their cars. They may serve some aerodynamic purpose but there could have been a more subtle execution.
- The egg crate grill for some reason doesn't fit the character of the car. Especially with its very future forward, progressive rear end treatment. Ferrari could have done without this, although I'm sure the Ferrari loyalist and historic will call my comment blasphemous.
- Extra wide grill and widely spaced headlights give the front end the appearance of the Cheshire Cat.
But this is all my opinion.
03-01-2012, 10:03 AM
Join Date: Sep 2011
Location: Florida
Posts: 160
Rep Power:
23



The back view reminds me of a lotus...and I don't like the large chrome smiley grill in the front. The side profile is nice.

I like the interior a lot better than the 458 Italia. In fact, this is one of the few Ferrari interiors that I like.
03-01-2012, 10:09 AM
Am I the only one that doesn't like the way Ferrari is going with their styling? Not a big fan of the FF, this new Berlinetta, or the 458 fins. I still prefer the 360/430 styling, but I may be a little biased. =) My favorite is the 599xx and Scud.