Lap Times Thread
12-13-2007, 08:05 PM
Join Date: Dec 2003
Location: U.S.
Posts: 206
Rep Power:
37





Lime Rock (one of the smallest racetracks around) has a short straight, but it's still longer than a 1/4 mile.
From the point that one hits full gas to the point of braking, there is a long distance. Assuming an entry speed of 80 mph, we can use data from different cars accelerating from 80 mph, and calculate the time it takes to cover 1/4 mile. Cars with plenty of power will shave seconds on such a short straight.
Using average speed for a 1/4 mile segment, we have
90 mph, it takes 10 seconds to cover 1/4 mile
100 mph, it takes 9 seconds to cover 1/4 mile
110 mph, it takes 8.2 seconds to cover 1/4 mile
This is an analysis done by my friends at AxisofOversteer.com. We all use Traqmate to gather data, analyze it and share it. It is a great article written by Andrea (AC) about Lime Rock
http://axisofoversteer.blogspot.com/...all-about.html
Sector 5 is the downhill and the main straight right before the braking zone.
In this specific analysis, eliminating the downhill turn, and just leaving the main straight, these are the time differences compared to the 911 Carrera S (355 Hp):
Porsche Cayman S (295 Hp): 0.5 secs slower
BMW M Coupe (315 Hp and gears): 0.35 secs slower
Lotus Elise (190 Hp): 0.5 secs slower
Looking at the power-to-weight ratios:
- Carrera S (3200 lbs + 200 lbs driver / 355 Hp): 9.6 lbs/hp
- Lotus Elise (1900 lbs + 200 lbs driver / 190 Hp): 11.05 lbs/hp
- Cayman S (3000 lbs + 200 lbs driver / 295 Hp): 10.85 lbs/hp (similar to the Elise)
- 2001 BMW M Coupe (3100 lbs + 200 lbs driver / 315 Hp): 10.48 lbs/hp
So, by looking at cars with similar weight, a 60 Hp difference shows a 0.5 secs advantage at the short Lime Rock straight. Add probably another 0.3 secs at no-name straight, and 60 Hp just dropped your lap times by almost 1 sec.
The Cayman S at 3,200 lbs instead of 3,000 lbs, will definitely lose 1 second at Lime Rock to the 997S on the two straights.
Now consider the time advantage between a 415 Hp 996 Turbo and a 60 Hp more powerful 996TT at 475 Hp. We have plenty of 996 Turbo running 475 Hp, 535 Hp, 600 Hp and a few running 650 Hp, 700 Hp, 800 Hp, 900 Hp or more. All these cars will gain seconds on the two short straights at Lime Rock.
Then, when we look at tracks like Pocono North, where half of the track is a NASCAR speedway at full gas, the Speedway section is twice as long as the main straight at Lime Rock.
At Pocono North, the 997 S will gain about 2 seconds over the Cayman S just on the Speedway section.
Finally, turns are connected by straights, and all these small straights are a benefit for the powerful cars.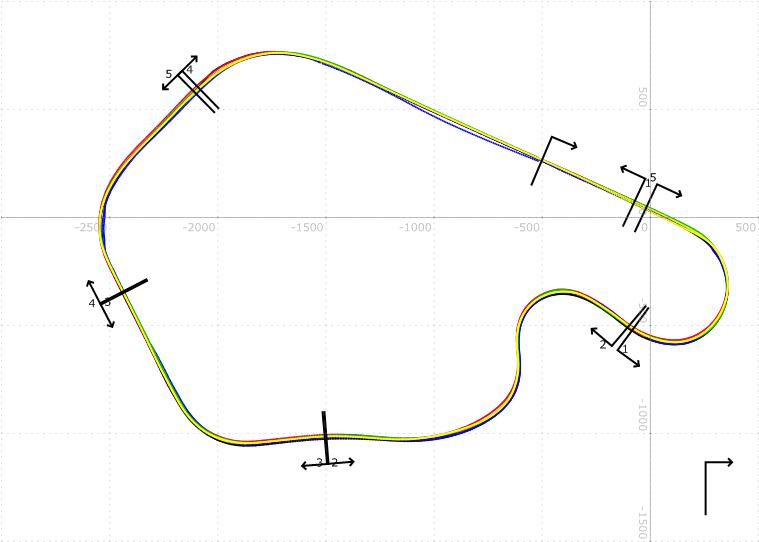 12-13-2007, 10:46 PM
Im not saying power doesnt hurt...otherwise I wouldnt race my TT, but, I can tell you, that at Summit pt, the total lap time is more kind to lighter cars...this doesnt mean that they have no hp...but say within 50 or so (like TT and a 996GT3)...ya, the tt has the straight, but certain sections just unanimously favor the lighter gt3...

as for limerock...just look at some of the lap times for the damn pinto skip cars at 56 seconds...thats pretty ridiculous for only 130 hp...and on street tires...thats not far from the time Overbeek posted a couple years ago in an rsr...his time was 54.XXseconds...only 2 seconds for that much power increase?? Uhh....haha
12-30-2007, 04:42 PM
Oh ok, I thought you meant your time was a poss 1:56, my bad.
12-30-2007, 07:20 PM
Summit Point - Main
1:21.30
997 GT3 (stock)
Toyo R-888
G2xtreme Data Logger

VIR - Full
2:11.xx
997 GT3 (stock)
Toyo R-888
G2xtreme Data Logger

Watkins Glen
2:12.xx
997 GT3 (stock)
MPSC N-Spec Crap
G2xtreme Data Logger


12-31-2007, 07:59 AM
I bet we'll see the Summit Point and VIR Full times drop this year... There will be a TT in the 2:0X on VIR full and a 1:1X at Summit main. I bet money on it.

Mike